Technology Shouldn't Be Your Organisation's Achilles Heel
Organisations all over the world are waking up to the new reality; a workplace is not a building, it's an ecosystem that enables productivity.
This shift requires tools that empower staff to perform without processes or technology failure.
Four Critical Digital Workplace Considerations
Transforming into a digital workplace is not without challenge. It involves more than switching to a new app or providing remote access. Today, organisations wanting to capitalise on the benefits of a connected workforce must address these key areas:
The Importance of Remote Work
The world can change rapidly and unexpectedly, rendering typical workplace structures ineffective. Without the option of remote work, productivity levels will fall, collaboration becomes impossible, and staff and customer engagements will be harder to sustain.
Security Threats
Online threats are growing. As more organisations support the remote working movement, they become easy prey for bad actors. It has become harder to protect personal and company data from hacking attacks while fighting to maintain regulatory compliance.
Costs and Complexity
Adjusting to a new way of working can be expensive and complex, especially if your organisation isn't equipped to implement and support a new digital workplace.
The Need for Scalability
A new normal introduces complexity, preventing agility and scalability. Most organisations are crippled by the requirement of large upfront investments, making it hard to scale operations.
How Microsoft 365 With Teams can Transform Your Business
Transforming your enterprise into a digital workplace isn't about simply moving to the cloud. It's about improving the way you work and using technology that promotes productivity. Microsoft 365 with Teams helps organisations achieve:
Greater Collaboration
Empower remote team collaboration and productivity. Staff have access to company assets, can share information securely, are able to communicate via live chat, voice, and video conferencing in an instant, and clients are easily serviced without missing a heartbeat.
Security and Compliance
Create your most secure ecosystem yet with enterprise-grade security. Using multi-authentication, you can protect your data and customer information and always meet compliance–no matter what devices your staff use to get work done.
Save Money
Remove obstacles to staff performance and improve productivity while leveraging automation to drive costs down, and reduce the expense caused by security risks. Replace in-person meetings with videoconferencing and replace software costs with monthly pay-as-you-go subscriptions.
Scale & Simplified Management
Microsoft 365 makes it possible to scale your organisation as and when you need to. You're able to introduce a new level of agility to instantly meet rapid changes in your market. Apps are kept up to date, reducing time for patches and upgrades and employees sign in once, saving onboarding and troubleshooting time.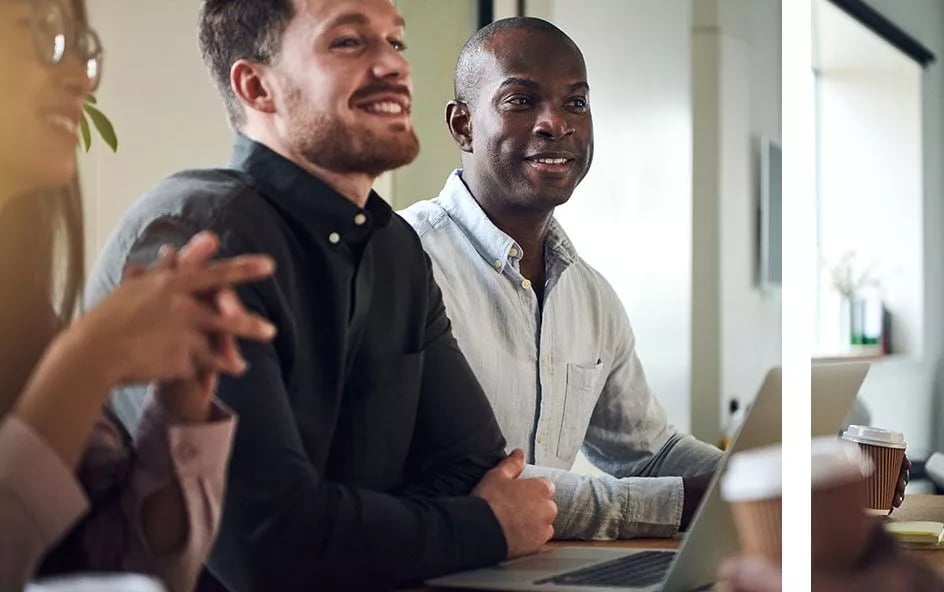 Create Your Digital Workplace With Us
Innovate is the go-to digital transformation partner for public and private sector organisations. We've been behind some of the most ambitious projects that have transformed organisations, enabling higher levels of productivity through the use of smart technology.
Transformation should start at the beginning of your move to the cloud, but we've found that it can start anywhere between developing a business case for a digital workplace solution and being in the throes of a roll-out that hasn't been executed efficiently. Our team of experts is ready to meet you where you are to help develop and implement the right digital workplace solution for your organisation.
Our scope of services include:
Planning and implementation of digital workplace solutions, backed by strong project management expertise and experience in private and public sector
End-to-end managed migrations from your legacy environment to a new greenfield Microsoft tenant
Management of Exchange Online, Teams, OneDrive, SharePoint and Microsoft security and compliance
A single point of contact for managing and maintaining your Microsoft 365 environment
We have a number of base and advanced services covering Microsoft 365 end-to-end, including Teams Voice, Device Management, and Information Management